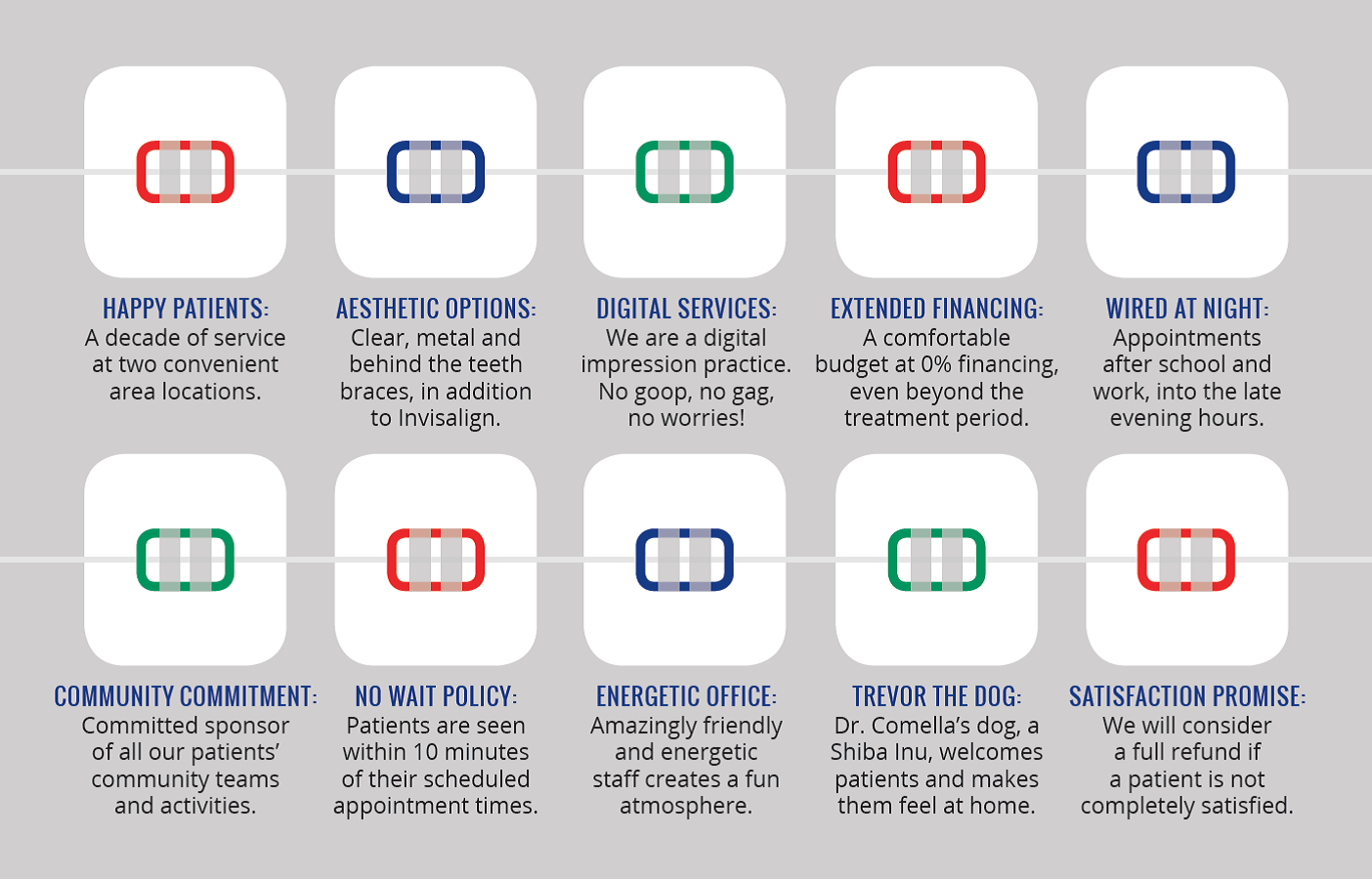 The COMELLA ORTHO difference
At Comella Orthodontics, Dr. Brandon Comella and his highly trained team are committed to excellence. Whether you have few or vast concerns regarding your teeth or bite, your experience will be exceptional. You deserve a smile that you will enjoy for a lifetime.
Focusing on completely esthetic treatment options, we know that seeing the process should not discourage you from getting the smile you deserve. As a rest of these systems, these patients FEEL better throughout treatment and allow us to achieve healthier and more pleasing results, due to our patient friendly process.
There are a few options for braces. The first is clear, ceramic brackets (Radiance TRADEMARK) at no additional cost over unappealing metal brackets. The second is completely custom behind-the-teeth braces (Harmony TRADEMARK) that no one will see unless you show them. The third option is Invisalign TRADEMARK.
Dr. Comella is a world leader that lectures on behind-the-teeth braces. He has lectured in Singapore, Thailand, Australia, all over Europe, Canada and the US. Comella Orthodontics is home of the Harmony Expert Program - a program Dr. Comella created!
The type of services offered at Comella Orthodontics draw patients from all over the world. Patients fly in from Toronto, Atlanta, DC, NYC, and Watertown due to the outcomes we are able to achieve.
Dr. Comella is one of three faculty at the University of Texas Health Science Center at San Antonio, Department of Orthodontics, who educate orthodontists on lingual braces at the only advanced training fellowship for orthodontists in the USA.
Listen for yourself about how patients FEEL about having them on.
Save time, stay at home and utilize our exclusive Virtual Consultations, Conferences, Emergency Questions, and Growth Observation
Interest free payment plans extended past your treatment duration to fit your budget
No more goopy messes or gagging with our Digital Impressions
Extremely fast, low dose X-Ray equipment for your comfort and safety
"Wired at Night" exclusively at Comella Orthodontics (Evening hours up to 8pm for regular adjustment appointments)
Proud Sponsors of our patients in their extracurricular activities
The Energy. You're welcomed with a smile and treated with respect while we have a lot fun during the treatment process with in-office contests, iPads and Wi-Fi available
Trevor (our office Shiba Inu) - He is the reason many people love coming in
We look forward to working with you, and to being a part of this wonderful, life-changing experience. Please feel free to contact our Rochester or Victor, NY office and schedule a complimentary orthodontic consultation. Your lifetime of happy smiles starts here!