Trevor
Office Manager
Hi! I am Trevor, the office manager. I am Dr. Comella's right-hand man. I love to assist all of the staff in the office. I am a 12 year-old Shiba Inu and I was born in Missouri! You can find me sleeping on the clinic floor or greeting you in the waiting room. I have a special place in my heart for Beggin' Strips - they're my favorite snack. See you at your next visit!
Here's a picture of me as a puppy. :-)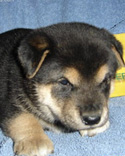 Fran
Administrative Assistant
Hi there! My Name is Fran and I am the Administrative Assistant at Comella Orthodontics. It is my goal to keep everything running smoothly behind the scenes each and every day. I have been with Comella Orthodontics for over 10 years and have built many special relationships with our patients and their families.
I have been married to by husband, Angelo, for over 50 years. Together, we take joy in spending time with our 9 grandchildren and 10 great-grandchildren. When I am not spending time with my family, I enjoy gardening at my home in Farmington. Stop in and say "hello" the next time you are in the office!
Gina
Operations Director
Welcome! My name is Gina and I am the Operations Director at Comella Orthodontics. It is my job to be sure that the office is running as smoothly as possible! I have worked in the medical field for over 15 years with this being my first experience in Orthodontics. Thus far I have had a positive experience and I am growing to love working here more and more every day! I love the positive upbeat atmosphere and who could beat the end result? A beautiful smile!
I am a Rochester native, and currently live in Greece with my husband, Frank. We have two wonderful and successful adult children, Frank IV and Paige along with my grand-dogs Mia and Apollo. When I'm not in the office, I enjoy spending time with my family and friends. Fall is my favorite time of year; I love the colors and watching football on Sundays. Oh yeah let's not forget the chicken wings!
If you have any questions about our Premier Orthodontic Practice, please feel free to contact me.
Melissa
New Patient Coordinator
Hello everyone! My name is Melissa and I am the New Patient Coordinator. I joined the Comella Orthodontics team in 2013. I am here to help you with all of your scheduling needs, while making sure you have an enjoyable experience with us each and every visit!
I am a Rochester native and a Churchville Chili graduate. I currently live in Greece with my husband and our son, Noah. We also have 2 dogs - a Siberian Husky and German Shepherd. Outside of work, I enjoy being outdoors and spending time with friends and family.
Brenda
Treatment Coordinator
Hey there! My name is Brenda. I enjoy my job as the Treatment Coordinator here at Comella Orthodontics! I always look forward to meeting and building new relationships with our patients. My goal is to make your experience with us comfortable and enjoyable. This office has a very upbeat and positive attmosphere and I love it!
I grew up in Gates; however, I moved to Henrietta 14 years ago when i bought my first home. I am a single mother of two young adults, my daughter and I love being there to support my son as a United States Marine. Outside of work I am a fitness enthusiast! I have competed in three figure competitions and love helping others get motivated. I enjoy all kinds of activites, landscaping, hiking and mud runs to name a few.
Elena
Financial Coordinator
Hello! My name is Elena and I am the Financial Coordinator at Comella Orthodontics. I will do my best to answer all of your financial and insurance questions. I am proud to say, I was a patient of Dr. Comella in 2007. Because of the positive experience I had as an adult in braces, my husband and I chose Comella Orthodontics for both of our daughter's orthodontic care.
I am a Rochester native, and currently live in Victor with my husband and our daughters. When I'm not in the office, I enjoy spending time with family and watching my daughters on the soccer field.
If you have any questions regarding your account or your insurance benefits, please feel free to contact me.
Jamie
Scheduling Coordinator/Clinical Assistant
Hi! My name is Jamie and I have been a clinical assistant for the past 6 years. I joined Comella Orthodontics in 2014 and I absolutely love working here! When I am not busy Scheduling appointments for patients and their families I am assisting Dr. Comella and Dr. Restrepo during your appointments - from changing wires to taking photos and X-Rays! Knowing how braces can change someone's smile and confidence is what drew me to the field of orthodontics.
While not at work, I enjoy spending time with my husband and two children, Fynn and Charlotte . I enjoy sports and working out, and enjoy going to the park with my dog, Birdie.
Carly
Clinical Coordinator
Hello! My name is Carly and I have been a clinical assistant for over 6 years. I help Dr. Comella and Dr. Restrepo throughout your appointments and enjoy being there for my patients if you have any questions or concerns.

On my time off, I enjoy being on aunt duty for my adorable niece and nephew, as well as spending time with my dog, Jack, going on walks and hikes. During football season, you can find me at the Buffalo Bills New Era Field cheering on my team.
Sarah
Clinical Assistant/RDH
Hi! My name is Sarah and I am a Registered Dental Hygienist! I completed Monroe Community College's Dental Hygiene program in 2015. I started off my career in general dentistry, but I am happy to have found my home at Comella Orthodontics -I could not imagine being in any other office! One of my favorite things in the office is teaching patients how to take care of their teeth while in braces by practicing good oral hygiene.
I recently moved to the Park Ave area and enjoy exploring the city of Rochester! In the summer, I like to spend my time hiking and going on camping trips with friends. When I am at home, I love playing with my rescue cat, Pinot!
Deonna
Clinical Assistant
Hey there! My name is Deonna and I have been a clinical assistant for 2 years now! I work with the other members of the clinical staff to ensure that you have positive, fun appointments. I work hands-on with the doctors to change wires and put the coolest colors on your brackets! I love being the office DJ and am always taking playlist suggestions.
Outside of office, I love soaking up the sun and getting a good tan - in the winter I am always so cold! I love my job at Comella Orthodontics and love all my patients!
Gary
Digital Clinical Coordinator
Hello everyone my name is Gary Salamone I am the Digital Clinical Coordinator. I will be doing consult photos, x-rays, scans as well as fabricating retainers.
Outside of the office I like to travel when I can and spend time with family and friends. In the summer time you can find me by a pool or playing golf. In the winter I play hockey. I look forward to meeting everyone that is on or joining team Comella.