We recognize that all our patients are unique and deserve to receive orthodontic care that reflects their individual needs. Our experienced and talented team is committed to working with you and your family to create a comfortable, stress-free, and rewarding orthodontic experience every time you visit our practice. We are pleased to welcome you and your family, and we look forward to working with you.
Trevor
Office Manager
Hi! I am Trevor, and I'm the office manager. I'm Dr. Comella's right-hand man and I love to assist all the staff in the office. I am a Shiba Inu and you can frequently find me in the office greeting you as you enter the waiting room. I have a special place in my heart for Beggin' Strips; they are my favorite snack. See you soon!
Here's a picture of me as a puppy. :-)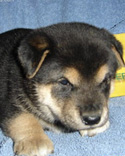 Joan
Treatment Coordinator
It is my goal to make you as comfortable as possible when you begin the rewarding adventure of orthodontic treatment with us. I am the person who will meet and greet you at your initial consultation appointment. During this visit, I help Dr. Comella with the clinical exam and review all treatment recommendations and financial options available. Please feel free to call me at any time if you have any questions as you get started with us in our fun office.
My husband David and I live in Penfield, NY. We have four amazing children (Kristin, Jaclyn, John, Alex) and two adorable grandsons (Noah and Sam). We also have two dogs (Hailey and Cooper) When I am not at the office, I love spending time with my family and friends. I love to take pictures (to the point that I drive my family crazy) and I love to dance to a live band - so if you know of any bands I should follow - make sure to stop in my office and let me know :)

Fran
Administrative Assistant
Hello, my name is Fran and I am the Administrative Assistant here at Comella Orthodontics. It is my goal to keep everything running smoothly behind-the-scenes each and every day. I have been with Dr. Comella's office for over 7 years and have built many special relationships with our patients and their families.

I am proud to say that I've been married to my husband, Angelo for over 50 years. Together we take joy in spending time with our 9 grandchildren and 6 great-granddaughters. When I'm not spending time with family, I enjoy gardening at my home in Farmington, NY. Stop in and say 'hello' next time you are in the office!

Cathi
Financial Coordinator
My name is Cathi, and I am happy to be with Comella Orthodontics as the financial coordinator. My role is to assist you with all your financial needs and questions. This includes setting up the initial financial arrangements that will work within your budget and answering any financial questions you may have. I also can help with your insurance, including submitting all claim forms. I work closely with Joan and the rest of our team after your initial consultation to make your whole experience a pleasant one. I look forward to working with you! Please feel free to call or e-mail me with any concerns or questions at any time during your treatment.
My husband Gary and I are originally from Syracuse and moved to Rochester in 1991
for his job. I have three grown children: Thomas, Jennifer, and Amanda. I also have my first grandchild, Ciara, who is 14 months old. We enjoy traveling, boating, and the company of our family and friends.

Catrina
Public Relations
Hi everyone! My name is Catrina and I have been a part of the Comella Ortho team for about a year now. I love the team I work with and I love the patients I have met along the way so far! We have a great time here, as you have noticed if you've joined our family here. My husband and I have 2 daughters, and have recently welcomed a little boy in May! We love sponsoring and hosting different youth groups and clubs; Feel free to reach out to me for any needs you may have.

Melissa
New Patient Coordinator
Hello everyone! My name is Melissa and I am the new patient coordinator. My number one goal is to make sure you have an enjoyable experience with us at every appointment and to meet any of your scheduling needs. I am super excited to be a part of such an awesome team!

I am a Rochester native and a graduate of Churchville Chili. I currently live in Greece with my boyfriend and our son, Noah. We also have a Siberian Husky, a German Shepherd and a Maine Coon. Outside of work, I enjoy being outdoors and spending time with friends and family.
Jen
Clinical Assistant
Hello, my name is Jen. I've been working with Dr. Comella as well as our great team, since 2007 as a clinical assistant. My goal is to make sure that your orthodontic treatment is as enjoyable and comfortable as possible. Feel free to email me anytime if you have any questions or concerns.
I grew up in Canandaigua where I graduated from Canandaigua Academy in 2001. I now live in Seneca Falls with my boyfriend Dan, and my two sons, Kyle and Ronan. Outside of work I enjoy golfing, swimming, hiking, and most of all, relaxing and spending time with my two boys.
Alex
Clinical Assistant
Hey guys! My name is Alexandra. I have been happily working with Dr. Comella, and the team for over a year now. My number-one goal is to make sure my patients are as comfortable as possible throughout their treatment. I also try to make sure they have a fun experience at every appointment. It's always my job to make sure everyone is smiling. I grew up in Ontario and graduated from Wayne Central. I then furthered my education at MCC where I earned my degree as a dental hygienist. Please feel free to contact me via email at anytime if you ever have any questions or concerns.
When I'm not at work, I am usually at the gym, playing sports, or spending time with my family and my doggy, Avie. I enjoy traveling and going out with my girlfriends. I love adventures and am willing to do just about anything that comes my way!
James
Clinical Assistant
My name is James. I recently joined Dr. Comella as part of the clinical team. I have been a practicing dental hygienist since 2012 and am happy to be expanding my skills in the field of Orthodontics. I attended the School of Dental Hygiene at ECC and then moved to Rochester after graduation.
I currently live in the Southwedge with my main squeeze, French Bulldog, Nigel. The way to my heart is through any dipping sauce and I'll never turn down a fresh pair of sneakers. Oh and don't leave your pens around, I will take them.
Jamie
Clinical Assistant
Hi! My name is Jamie. I am very grateful to have joined Dr. Comella & the Comella clinical team. Making your experience comforting and enjoyable throughout treatment is my goal. Watching you all smile brings such joy and is the reason I chose orthodontics. Please feel free to contact me with any questions or concerns anytime.

While not at work my time is spent with my amazing three year old son, Fynn. I enjoy all aspects of fitness and playing all sports. I am always willing to take on a new challenge.