This portion of the website is still under construction!
Trevor
Office Manager
Hi! I am Trevor, the office manager. I am Dr. Comella's right-hand man. I love to assist all of the staff in the office. I am a 12 year-old Shiba Inu and I was born in Missouri! You can find me sleeping on the clinic floor or greeting you in the waiting room. I have a special place in my heart for Beggin' Strips - they're my favorite snack. See you at your next visit!
Here's a picture of me as a puppy. :-)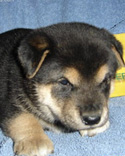 Fran
Administrative Assistant
Hi there! My Name is Fran and I am the Administrative Assistant at Comella Orthodontics. It is my goal to keep everything running smoothly behind the scenes each and every day. I have been with Comella Orthodontics for over 10 years and have built many special relationships with our patients and their families.
I have been married to by husband, Angelo, for over 50 years. Together, we take joy in spending time with our 9 grandchildren and 10 great-grandchildren. When I am not spending time with my family, I enjoy gardening at my home in Farmington. Stop in and say "hello" the next time you are in the office!

Melissa
New Patient Coordinator
Hello everyone! My name is Melissa and I am the patient coordinator. I joined the Comella Orthodontics team in 2013. I will help you with all of your scheduling needs, while making sure you have an enjoyable experience with us each and every visit!
I am a Rochester native and a Churchville Chili graduate. I currently live in Greece with my boyfriend and our son, Noah. We also have 2 dogs - a Siberian Husky and German Shepherd. Outside of work, I enjoy being outdoors and spending time with friends and family.
Jamie
Clinical Coordinator
Hi! My name is Jamie and I have been a clinical assistant for 6 years. I joined Comella Orthodontics in 2014 and I absolutely love working here! I assist Dr. Comella and Dr. Restrepo during your appointments - from changing wires to taking photos and x-rays! Knowing how braces can change someone's smile and confidence is what drew me to the field of orthodontics.
While not at work, I enjoy spending time with my husband and two children, Fynn and Charlotte . I enjoy sports and working out, and enjoy going to the park with my dog, Birdie.
Deonna
Clinical Assistant
Hey there! My name is Deonna and I have been a clinical assistant for 2 years now! I work with the other members of the clinical staff to ensure that you have positive, fun appointments. I work hands-on with the doctors to change wires and put the coolest colors on your brackets! I love being the office DJ and am always taking playlist suggestions!
Outside of office, I love soaking up the sun and getting a good tan - in the winter I am always so cold! I love my job at Comella Orthodontics and love all my patients!
Sarah
Clinical Assistant/RDH
Hi! My name is Sarah and I am a Registered Dental Hygienist! I completed Monroe Community College's Dental Hygiene program in 2015. I started off my career in general dentistry, but I am happy to have found my home at Comella Orthodontics - I could not imagine being in any other office! One of my favorite things in the office is scanning and preparing patients retainers and appliances. I am the new 3D printer master in our office!
I recently moved to the Park Ave area and enjoy exploring the city of Rochester! In the summer, I like to spend my time hiking and going on camping trips with friends. When I am at home, I love playing with my rescue cat, Pinot!